Do you use a bullet journal?
I've always wanted to, but I'm intimidated by the concept, especially because I'm not artistic at all.
If you're in the same boat, but you've been itching to give bullet journaling a try, today, I'm going to show you how you can make your bullet journal weekly spreads "pretty" without any artistic capabilities.
To do this, I'm going to show you weekly spreads made by talented bullet journalers, and then I'll show you how you can get a similar spread even if you're not artistically inclined.
Are you ready for some bullet journal inspiration?
Let's dive in!
Disclaimer: This post contains some affiliate links, meaning I make a small commission if you use my links. This comes at no extra cost to you, and allows me to keep this blog running. 
Bullet Journal Weekly Spreads Anyone Can Do (+ How)
1) How to make script fonts
Ever wonder how people get those really cool script fonts for the days of the week in their bullet journal?
Yeah same.
But here's the deal: while there's a lot of people who have fancy hand writing, there are others, like myself, who don't.
To combat this, add fancy script fonts like the one from above by using a stencil! Simply trace it out, and voila, your bullet journal weekly spreads automatically have an artistic edge, without you having to become a master calligrapher.
You can get stencils for the days of the week here (plus this pack also comes with floral stencils so you can get something super similar to the weekly spread from above without having to know how to draw fancy flowers).
Here's what the stencils look like: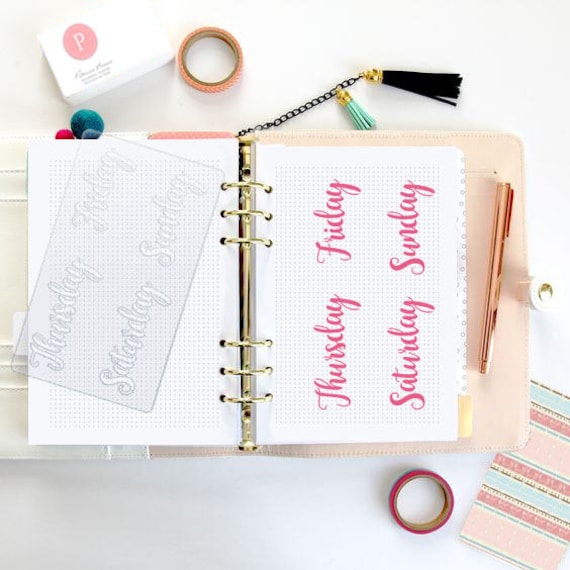 Click here to check out stencils for your bullet journal weekly spread 
2) How to make super simple bullet journal weekly spreads that still look good
Sometimes it's nice to keep things simple.
I don't know about you guys, but I'm much more likely to stick with something if it's not super complicated, which is why I love this simple spread:
Really, this weekly spread pretty much only requires a ruler to get the perfectly straight lines.
Beyond that, though, if you want some extra flair for your bullet journal weekly spreads, I suggest getting some colored pens. This way, you can do different parts of the spread in a different color, as shown above where the lines are done in a nice red.
If you're looking for colored pens, I highly recommend these Pilot Frixon Retractable Pens. I use these in my planner everyday, and they're actually erasable.
Yup, erasable!
If you're a perfectionist like me, and you happen to make a mistake in your bullet journal, you can quickly and easily erase with these pens.
And yes, like I said, I use these pens on a daily basis, and they really do erase! Pretty cool, right?
Check out these colored, erasable pens here. (they come in black, dark blue, light blue, green, pink, red, and purple)
3) Use a colored theme
One easy way to give your bullet journal weekly spreads some extra flair is to use a color scheme.
While this particular spread does have some more complicated script fonts, what really makes it stand out and look great (in my opinion) is the use of feminine, pastel colors. In other words, it has a color scheme that makes it eye-popping and artistic.
With that in mind, the erasable pens I mentioned above work great for adding color, but if you're looking for more of a marker type look, without any bleeding through the pages, I did my research, and everyone absolutely raves about the Tombow Dual Brush Art Pen Markers.
These babies can create both fine lines, but also bold strokes, which is great if you want these both for letting and for filling in large spaces.
p.s. based on the picture from above, it looks like the Towbow pens were the exact pens used to create this weekly spread!
4) How to make perfectly aligned bullet journal weekly spreads
I think one of the biggest appeals for me about bullet journaling is how organized and aesthetically pleasing everything is.
Every time I've ever looked at anyone's bullet journal, it's always so neat, but as somebody who is not neat, I've always been convinced I wouldn't be able to make perfectly aligned patterns and designs.
To illustrate this, check out this weekly spread:
This weekly spread is relatively simple, but I know if I were to attempt this, nothing would be this nicely aligned.
Even those little flags where the months and day of the week are put in, I know if I were to try and attempt that, none of the flags would be the same size or shape.
But, guess what I figured out?
You can use stencils for even these simple things, and they make a huge difference.
With this stencil collection, they have the little flag stencil so that each flag is exactly the same size and shape.
Beyond that, use a ruler, and I've got no doubts that you (and me!) can pull off this bullet journal weekly spread.
Plus, this particular stencil collection comes with so many cool elements you can add to your weekly spread, like arrows, thought bubbles, clouds, stars, and even boxes, so you can ensure any box you create in your bullet journal is the exact same size and shape.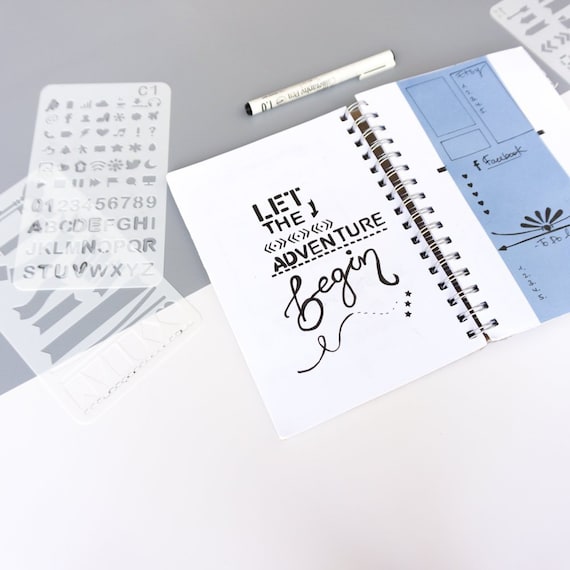 Check out this stencil collection here 
---
As I was writing this post I actually decided to order The Bullet Journal Method, which is the book that walks you through setting up your bullet journal.
What can I say, I was inspired! (I'll let you know how it goes once I read it)
But yes, if you're like me and you think bullet journal is an interesting concept, but you're just not confident in your abilities to set up a bullet journal, I highly recommend picking up some of the items mentioned above. I'm pretty certain stencils are the key to making your bullet journal look nice.
If you're interested, these are the items I mentioned once again:
1) Calligraphy stencils with days of the week + flower stencil 
3) Art Markers
4) 12 stencils, including flags, thought bubbles, clouds, hearts, etc. 
So, are you going to try bullet journaling? Do you feel more inspired to create your own bullet journal weekly spread? I know I do!
If you found this post helpful, feel free to share it on Pinterest. It's always appreciated! xx