When it comes to home decor, I have a bad habit of wanting to do too much, too fast. Whether it be wanting to redo an entire room, or spending a large sum of money, I tend to find home decor somewhat overwhelming.
Any other over-thinkers with me?
If you're raising your hand, but you want to avoid over-thinking a space and spending a lot of money, I've gathered up some of my favourite tips to help you refresh your bathroom for under $100.
Yup, $100 and you can have a bathroom that feels fresh, new, and exciting to be in.
Alright ladies, you ready? Let's refresh our bathrooms, shall we?
5 ways to refresh your bathroom for under $100:
Please note that this post contains affiliate links, meaning if you choose to make a purchase through my links, I'll make a small commission, but I have only included links for products I really love and think will benefit you 🙂 
1. A can of fresh paint always works wonders
Really, this one is fairly obvious, so I won't spend too much time here, but a can of paint can make all the difference when trying to refresh any room.
Even if you're going from neutral to neutral, a simple refresh can be a game changer, especially if you add a bit of color or something unexpected.
A pop of blue or green is always nice for a bathroom for its fresh and clean nature; however, if you're looking for a nice neutral, I always recommend Benjamin Moore Classic Grey. It's the perfect grey, where it's actually almost white, but when you paint your trim white or you have a white vanity, the grey will show up because of the contrast. Love it.
Pro Tip:
You might be amazed by all the different ways you can add a fresh coat of paint to your bathroom. Don't just limit yourself to the walls. You can paint your vanity, your sink, ceramic tiles,  and even your bathroom fixtures can be painted.
Get creative!
2. Don't forget to add shelving
Just as a can of paint can transform a room, so can shelving, especially with today's home decor trends.
Really, who doesn't love styling shelves? I know I do! And most of the time, a lot of us will have plenty of items around the house that we can add to our shelves to help us save even more money.
Grab some fresh white hand towels and place them on the shelves, add a decorative basket with your favourite lipsticks in it for convenience, and top it all off with a great smelling candle. Trust me, dig around your house for cute little items you can add to your shelf for visual interest, and I guarantee it will make all the difference in  your bathroom.
And hey, if you're on the hunt for some rustic floating shelves that would look great in a bathroom, I highly recommend these ones.  
3. Check out these fun bathroom art pieces
You can really add whatever artwork you want to your bathroom, but I always find it fun to throw in quirky art pieces that are specifically designed for the bathroom.
Not only does this add a fun design element, but I've also found that these bathroom specific art pieces tend to be on the cheaper side. 'Cause really, who wants to spend an arm and a leg on a piece of art that's only going to be seen in the bathroom? Not me. Do yourself a favour and save some money on bathroom specific art pieces.
In particular, Etsy is an amazing spot to look because there are a lot of shop owners that sell digital downloads, meaning you'll have to print and frame the picture yourself, but with a quick trip to your local print shop and simple black frames from the dollar store, you could spend less than $15  on this.
Here are some of my favorite digital downloads from Etsy that are perfect for the bathroom.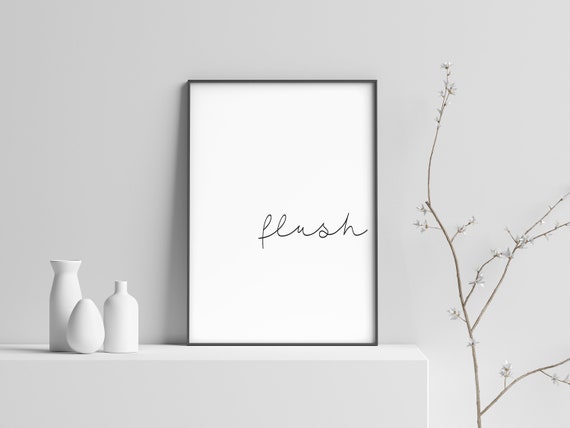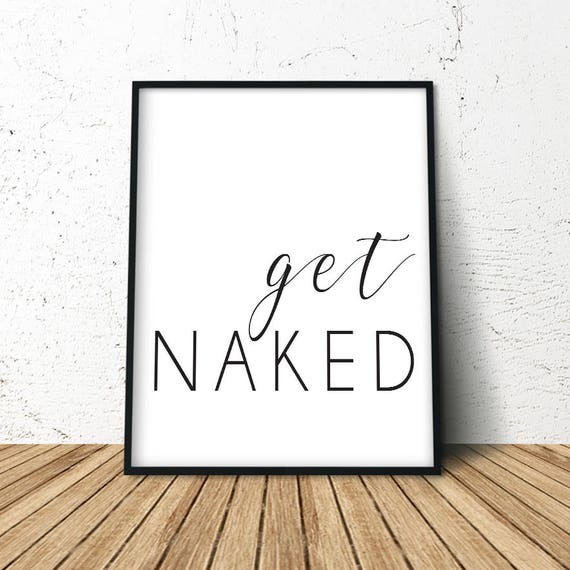 And for all my girly girls out there who want that ultra feminine bathroom, this is my absolute favorite: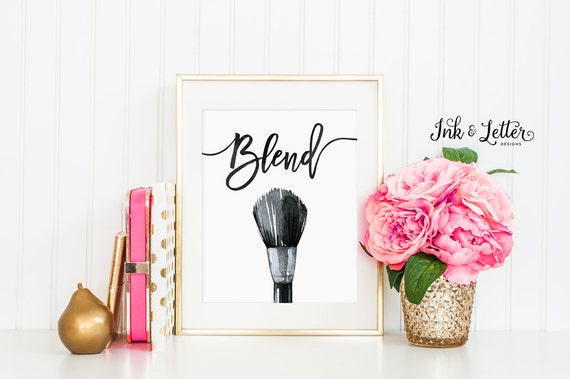 Pro Tip:
I haven't had luck with this yet, but I know people who have: if you really want to save money on artwork, don't forget to always check out your local thrift shop and flea market for hidden treasures. Even finding eclectic frames and then framing your own prints can be a clever way to save some money on artwork.
4. Utilize storage solutions
I already mentioned shelving for decorative purposes, but let me just touch on organization for a second.
If you're one of those people who has all their bathroom products displayed on their vanity counter, it's time invest in some storage solutions.
Whether it be a wall cabinet, a standing shelf, or drawer organizers for more efficient storage use, keeping your bathroom organized is one of the best things you can do to help the space feel inviting and spa-like.  Plus, there's so many great options that are budget friendly, like this space efficient, basket storage unit.
Trust me, storage solutions might not sound like the most glamorous purchase, but they'll make a world of a difference.
RELATED: 11 Clever Bathroom Makeup Storage Ideas
5. Invest in cohesive bathroom accessories
When I say bathroom accessories, I'm largely talking about your toothbrush holder and your soap dispenser primarily.
If you're using a mismatched set, or you're just using disposable containers of soap, try out getting a matching set.
This adds some flair to your bathroom, and it doesn't cost a lot.
Pro Tip:
If you're really tight with money, one thing I use to do to save money while in school was using a cute coffee mug as a toothbrush holder. It sounds kind of tacky, but if you live alone and you have a lot of different stylish mugs like I did, this can be a great way to save a little money. You won't match with your soap dispenser, but hey, sometimes you just gotta do what you gotta do, right?
6. Add a new mirror above your vanity
Again, it might seem like a small thing, but if you can afford it, a new mirror above your vanity can really transform a space, especially if you find one that has some standout elements.
And hey, once again, don't forget to hit up thrift shops. In the image above, clearly the bathroom has been updated with high-end finishes, but the mirror itself has a vintage style feel to it, and is something that you might be able to find at a thrift shop for half the price. Use this image as inspiration, and don't forget to think outside the box when trying to save money. Plus, keep in mind that if the finish of the mirror isn't what you were looking for, you can always use a can of spray paint to get your preferred look.
7. Replace your old bath mat/shower curtain
Whenever I see how many fun, colourful bath mats and shower curtains are out there, it blows my mind that anyone would choose to stick with something plain and boring.
Add some fun into your bathroom! Of course you can choose to stick with that neutral colour palette if you're going for a more minimal look, but remember, a more minimal and spa like bathroom tends to be more well suited for a new bathroom with high-end finishes.
Plus hey, both of these items are necessitates for a bathroom so you don't have to feel badly about spending money here.
Win-win!
Here are some of my favourite (affordable!) options
---
So which of these tips for refreshing your bathroom will you be implementing?
Of course if you want to use all these tips, it will likely cost more than $100 (I'd be impressed if you managed to do all of this for $100). So, if it were me, my top area of focus would be on the shelving, because this will help provide both visual interest and storage solutions to the space. I would also try to thrift a standout mirror, and then I would bring some lively colour and print into the space with a new shower curtain and/or bathmat (depending on the prices of all the pieces, and how tight of a budget I'm sticking to).
Having said that, pick the areas of your bathroom that you feel need the most attention, and focus your budget there.
Trust me, sometimes all it takes is a little elbow grease and a couple of stylish pieces, and your bathroom can become an entirely new space.
If you found these tips helpful, please feel free to share them on Pinterest. I always appreciate it.